Beginning the flute
As with so many musicians, it was my mother and father who led me to music. My mother, Margaret Barthel Baxtresser, was a concert pianist who was a Naumberg winner in 1950. My father was a music lover and a fine amateur pianist. I had no real talent for the piano, but I loved music and in the fourth grade, I fell in love with the flute. It was a wonderful music program at the Robert Fulton Public School in Minneapolis, Minnesota that gave me my first chance to become a flutist.
In addition to my mother, who was a great influence throughout my career, I was blessed with a fabulous first flute teacher, Mary Roberts Wilson. Mrs. Wilson supplied the two most important ingredients a young student needs—passion and gentle discipline. I also studied briefly with Emile Opava, a student of William Kincaid and the Principal Flutist of the Minneapolis Symphony.
Music and Family—Student and Parents
So many musicians can trace their beginnings in music to the love of music shared by their parents or another close family member. There is no question that with most young flutists there is a parent in a critical role providing inspiration, encouragement, and discipline. This is all in addition to the tremendous investment in time and money to provide for lessons, transportation, summer classes, and on and on.
I was so fortunate in that both my mother and father loved music above all things in life, except for the love of their children and family. My father, Earl Baxtresser, was a fine amateur pianist who gave me a lifelong enthusiasm for music that went way beyond my own involvement as a professional musician. He had an infectious joy for all kinds of classical music, but was most thrilled by the solo piano literature, and chamber music for strings and piano.
As I was growing up, our house was filled with recorded music or live music most days into the evening. I am so grateful that I was exposed to the classical literature outside of flute music, as it gave me a wonderful foundation for playing the great symphonic repertoire by our greatest composers.
My mother, Margaret Baxtresser, was a concert pianist. In addition to being a mom to six children, she had a very active career and would spend many hours practicing. I remember, vividly, falling asleep listening to her play Brahms, Debussy, or Rachmaninoff and waking up to the same sounds.
I also learned the great lesson of how to really listen to myself from my mother. She was a brilliant teacher and had an uncanny ability to define elements in my playing that were not as good as they could be—these were small things that I didn't hear. I think this is one of the most difficult but critical challenges. We musicians must make sure that we are hearing the sounds we are really producing, rather than what we "think" and "hope" we are doing.
My mom also had remarkable methods for practicing which she shared with me. Someday, I hope to put many of her thoughts and ideas into print.
As you go through the early days of study, through college and beyond, don't ever forget the extraordinary dedication from your family that is part of everything you do. I can't describe how gratifying it is, at a student's graduation recital, to see the looks of pride and joy on the faces of the parents at the accomplishments of their child. As a teacher, it is truly a "golden moment" to witness.
Interlochen
I think my orchestral life began when I attended the Interlochen Arts Academy in my Junior year of High School. I learned so much from my wonderful teachers, Ramona Dahlberg and Gary Sigurdson, and I adored my daily exposure to orchestral playing. It was at Interlochen that I knew my dream life would be to play in an orchestra. But the greatest gift to me about being there was that I joined a group of young kids just like me…living for the pursuit of a life in the arts!
Juilliard
My reason for going to Juilliard was to study with my favorite flutist, Julius Baker. It was a grand four years and I will never stop being grateful for that magical time. In addition to my lessons, my fellow flute students gave me the education of a lifetime. They encouraged me, challenged me, and inspired me. So many of my dear classmates were destined to have careers in music that would bring us all together again and again in the future.
Continue to Julius Baker—my teacher »
click to view larger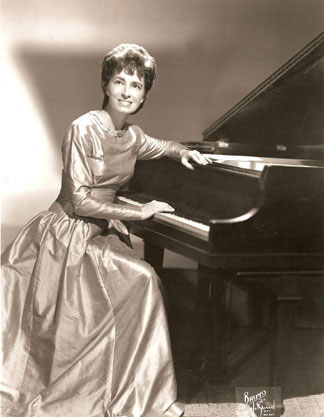 Margaret Baxtresser, my mother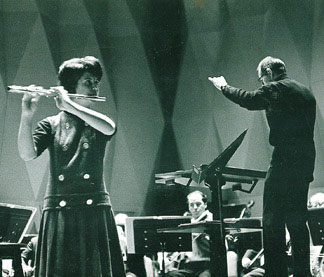 Performing Mozart with the Minneapolis Symphony, Frederick Fennell conducting; age 14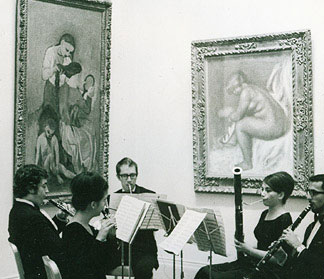 Juilliard Woodwind Quintet at the Metropolitan Museum of Art, with John Cerminaro (horn), Julie Feves (bsn), John Moses (clar), and Michael Kamen (ob)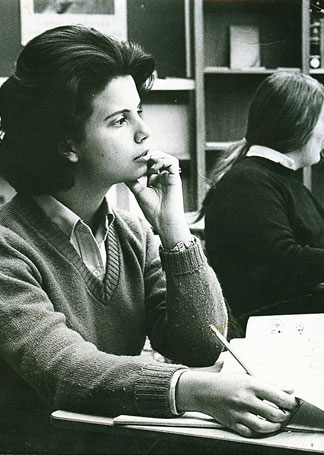 in class, Interlochen Arts Academy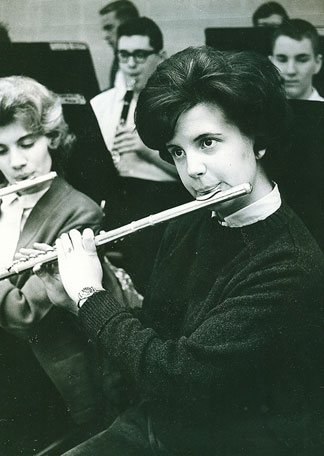 Interlochen Arts Academy Orchestra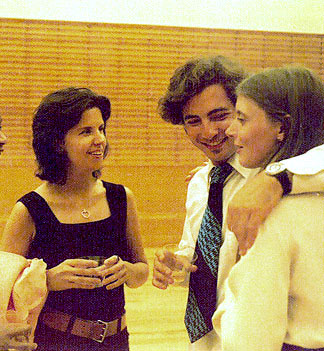 JB with Juilliard classmates Paul Fried and Renee Siebert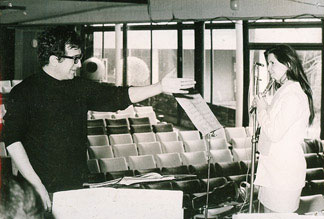 European tour with Luciano Berio

Juilliard Julius Baker reunion (back, L to R) Trudy Kane, Martha Rearick, Janet Millard, Renee Siebert, Julius Baker, Anne Diener Giles, George Weintraub, JB, Anne Briggs (bottom, L to R) Margaret Baxtresser, Erich Graf, Mr. Giles, Scott Goff, Paul Fried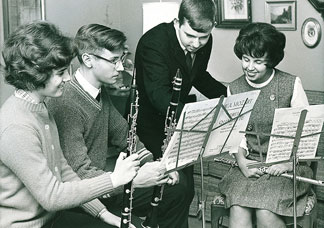 Junior High School Woodwind Quintet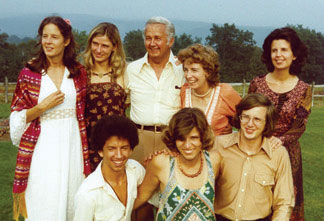 Portrait of the Baxtresser Family (Suzanne, Jane, Earl, Margaret, Jeanne, Rob, Mary, Earl III)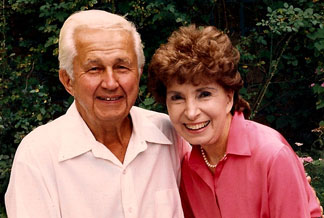 My first musical mentors, Mom and Dad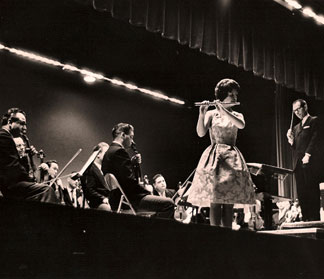 Performance with the Minneapolis Symphony (14 years old), Frederick Fennell, conducting.