Montreal
I took my first audition in my Senior year at Juilliard, and to my surprise I was offered the Principal Flute position of the Montreal Symphony. Playing in a symphony orchestra is simply the greatest musical performance education in the world. My conductor, Franz-Paul Decker, is a great musician and teacher and my colleagues were wonderful to me as I learned my craft. I particularly loved the playing of the Principal Bassoonist, David Carroll. Once, at a party after a concert, Julie Baker met David and said to me after David walked away, "He is a really great guy…why don't you marry him?" Years later, keeping his advice in mind, I did! Smartest move I ever made!
Toronto
My years as Principal Flutist of the Toronto Symphony were so gratifying. I treasured working with the brilliant conductor and pianist, Andrew Davis, and I worked harder to enhance my skills as a soloist. My teacher was correct…being an effective soloist enhances an orchestral player's skills and instincts, and the orchestral background makes for a fine soloist and chamber musician. Some of my finest memories of this time are my recordings with Andrew Davis conducting and at the piano.
New York Philharmonic
To play in this great orchestra was the "dream beyond my dreams". I think the greatest thrill of being in one of the world's top orchestras is simply that you hear fabulous playing all the time from your colleagues. At any performance or even rehearsal, I would hear the definitive performance of any given solo on any instrument. My three major conductors during my tenure with the orchestra were Zubin Mehta, Kurt Masur, and the Laureate Conductor of the orchestra, Leonard Bernstein.
The hundreds of rehearsals, concerts, recording sessions, and tours around the world will live in my memory forever. But equal to that are the friendships that were made and the joy I experienced hearing these people play music.
Continue to Colleagues »
click to view larger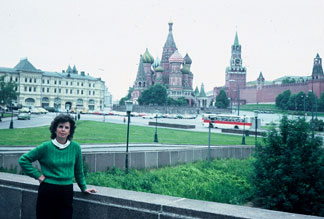 on tour in Russia with the New York Philharmonic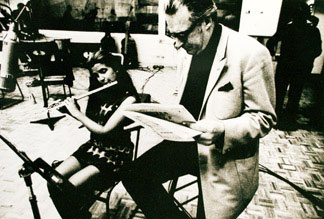 with Franz Paul Decker, Music Director, Montreal Symphony, in recording session of "Peter and the Wolf"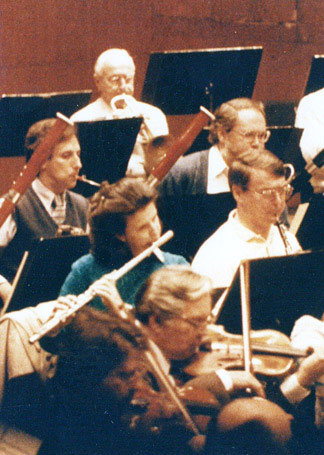 with the New York Philharmonic—to my left is Paige Brook, to my right is Joseph Robinson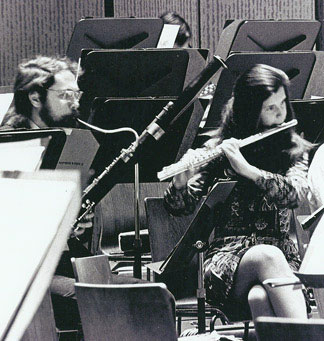 with David Carroll, future husband and principal bassoonist, Montreal Symphony, Place des Arts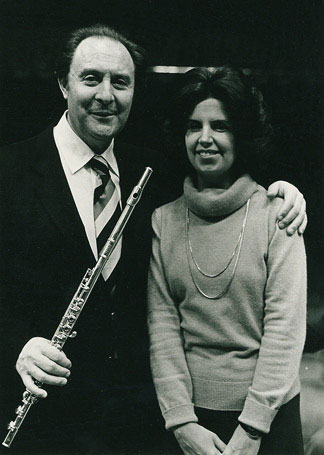 with Jean-Pierre Rampal, after a Toronto Symphony rehearsal. We performed a duo concerto together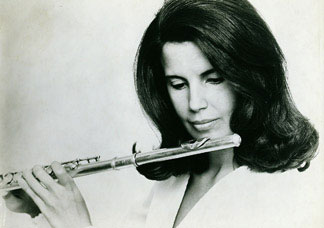 Toronto Symphony publicity photo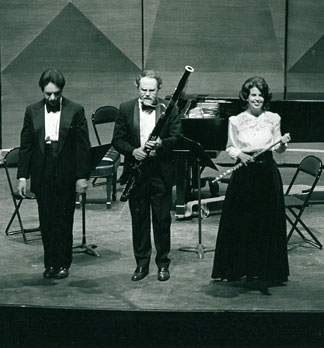 New York Philharmonic chamber concert with Jonathan Feldman (piano), and David Carroll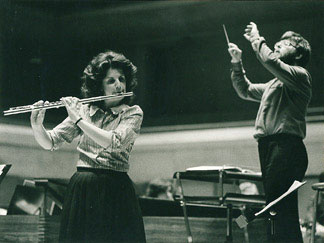 European tour rehearsal with Andrew Davis, Toronto Symphony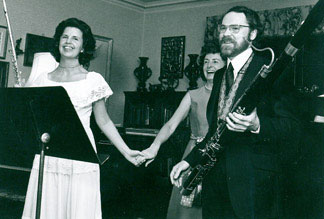 performing with David Carroll and Margaret Baxtresser

on tour with the New York Philharmonic in Bolshoi Hall, St. Petersburg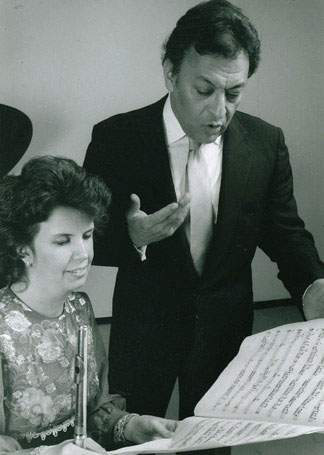 with New York Philharmonic Music Director, Zubin Mehta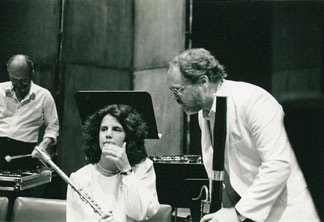 a moment in New York Philharmonic rehearsal, with David Carroll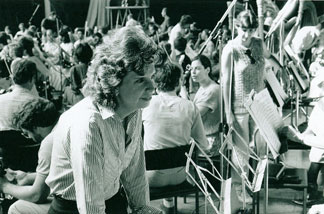 New York Philharmonic rehearsal, about to begin

On tour with the Philharmonic…practicing in front of a wardrobe trunk!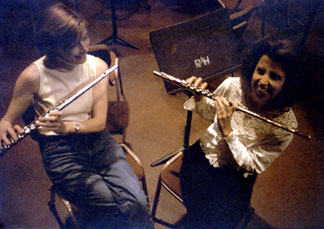 Renee Siebert and me before a NY Philharmonic concert in London.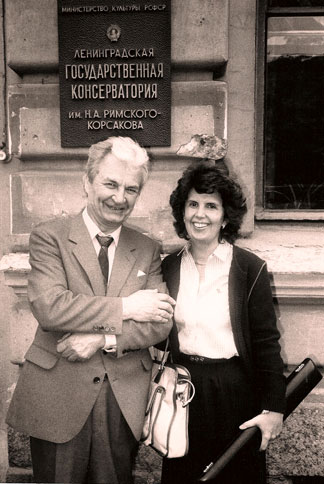 After a class at the Leningrad Conservatory (part of a NY Philharmonic tour).