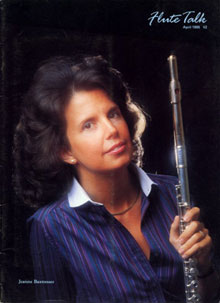 Drawn to the Music
An Interview with Jeanne Baxtresser
By Kathleen Goll-Wilson
Flute Talk—April 1995
Having dreamt about playing in an orchestra since she was a little girl, Jeanne Baxtresser decided it was time to see if the professional world was ready for her by auditioning for the principal flute chair of the Montreal Symphony Orchestra when she was still a senior at Juilliard. She had grown up in a musical family and had listened to orchestral recordings every day. "When I heard the great flute solos in Daphnis or Afternoon of a Faun, I desperately wanted to play them myself. When I was quite young I could pick out the notes and play these solos before I even had the music. I was drawn to this music." Attending the Interlochen Arts Academy developed her foundation in orchestral playing. "Every week we prepared a different program and after two years of intense orchestral playing, I looked forward to my Juilliard years with great excitement." There she had four years of concentrated training as well, studying with Julius Baker.
"By the time I was a senior, it didn't seem strange to set out and take an audition to see if it would all come together. I didn't tell Julie that I was going to audition, maybe out of embarrassment, but also because this was a personal experiment. I went to Montreal feeling wonderfully comfortable and confident. The audition was a marvelous liberating musical experience. Perhaps this was because I was so innocent, but why should an audition be anything less? I had no expectation of getting the job, mind you, so I just played my little heart out and lo and behold, landed the job." Julius Baker called her the day she returned to New York and expressed both delight and surprise.
Baxtresser discovered soon that the easy part was getting the job, but the hard part was meeting the responsibilities of being principal flute. "At only 21, this hit me very hard because I had to turn my life over to the job. I was still growing up and learning how to handle social and work situations, learning about myself and how to get along with people, especially older orchestra members. I had to grow up very quickly."
As many young players today land major jobs, Baxtresser has nothing but admiration for them. "Conductors like to hire young players they can shape and influence. They take pride in helping to develop a career."
After nine years in Montreal, Baxtresser took her second audition and became principal flute of the Toronto Symphony Orchestra, an experience that was not as carefree as her first audition in Montreal. Her seven-year tenure as principal flute in the Toronto Symphony was idyllic, but when the opportunity arose to be principal flute with the New York Philharmonic, she couldn't pass it up. "In addition to practicing the orchestral excerpts, preparing myself mentally was very much in my thoughts in getting ready for the New York Philharmonic audition. I knew I would have butterflies when I played, but my objective was to make the butterflies fly in formation." Under the pressure of the three-day audition, she admits those butterflies felt like B-52s, but her thought-controlling techniques worked.
"The process of auditioning over a three-day period was fatiguing, but I controlled my thoughts to work for me, not against me. Learning how to direct your energy takes the same kind of practice as learning to move the fingers."
For the first day of the New York audition, Baxtresser played the required excerpts and a concerto with a pianist. The next day, she played the major excerpts with the orchestra. "To my surprise there were 1500 people in the audience as it was an open rehearsal. The final phase of the audition involved a performance with the orchestra in a regular subscription concert. Zubin Mehta, recovering from an elbow injury, was not conducting. As luck would have it, the replacement conductor was Andrew Davis, the music director of my orchestra at that time, the Toronto Symphony! We rehearsed the Shostakovich 5th Symphony and, after one of the big flute solos, Andrew jokingly said to the orchestra 'She's no good, is she?' I got the job anyway, and Andrew and I have remained good friends and have collaborated musically many times since."
Baxtresser has enjoyed being part of this orchestra and working with Zubin Mehta and Kurt Masur. "Both men are extraordinary musicians, although very different." Their emphasis affects her teaching as well.
"I feel their influence especially with the major composers of the orchestral literature such as Beethoven, Mozart, and Brahms. On a daily basis they mold the orchestra to play a certain way, and their focus in rehearsals surfaces in my teaching. Every conductor strives for a specific sound, especially on the music with which they want to make their mark on the orchestra. As a result, I learn a tremendous amount about the multiple layers of the classic literature."
New York Philharmonic's musical director Kurt Masur comes with a strong background of interpreting the classics, and Baxtresser says the orchestra is learning a great deal. Under former director Zubin Mehta the orchestra learned very difficult music quickly because he had a clear beat that was easy to follow. "He was always on top of contemporary interpretation, and we often learned complex pieces in only a week's time for a typical four- or five-run concert." She also praises his interpretation of other music, from the impressionists to Bruckner and Mahler, saying "he was like a musical godfather to David and me because he brought us into the Philharmonic." It was Mehta who hired her husband, bassoonist David Carroll.
She felt welcome from the moment she first played in the Phil. "For young players new to an orchestra it is important to find a musical friend within the orchestral ranks who can help handle job pressures. This can make all the difference in the world, especially when it comes to handling a guest conductor's quirks. In the Montreal Symphony I had Mev Berman, first oboist seated right next to me, and he provided that musical shoulder to lean on. Occasionally he would reassure me that I sounded wonderful on a passage, or he would tell me not to worry about a conductor's remark, explaining later what it meant. If I had a question, he was there with an answer.
"Young players cannot go up to a conductor following a rehearsal and show they are upset; they have to carry on as if they have been doing the job for years. That is why you have to let your hair down with a fellow member and listen to his honest, objective opinions regarding playing in tune, coming in early or late, and so on. Having someone to lean on helps build self-confidence and trust. I hope everyone who is new to an orchestra will seek out that type of friend." For any player transferring to another orchestra, it takes two or three years to adjust to the new hall, surrounding players, the dynamic levels of the orchestra, and the conductor's expectations. "Enough time," she says, "to play through every major solo."
To help aspiring flutists to learn the orchestral literature, Baxtresser, in collaboration with Martha Rearick from the University of South Florida, has developed a book of 32 orchestral excerpts to be published by Theodore Presser. This new edition uses the actual orchestral parts with the original engravings, "because during an audition the experience of reading the notes from a different engraving or edition will sometimes throw a player off." This book will include works ranging from Bach to Debussy to Mahler, Beethoven, Hindemith, and Stravinsky. The opening chapters deal with how to take an audition. A noteworthy aspect of the book is an errata section that indicates the mistakes within the original music. Many parts contain errors, but in careful checking with the score Baxtresser has corrected the parts and listed the corrections separately. Rearick arranged the score for the piano in a separate volume. "This way a flutist can see how the part fits within the orchestral texture and realize its rhythmic and harmonic significance by working it out with a pianist instead of simply listening to a recording." When Baxtresser practices a major work, such as Daphnis or Afternoon of a Faun or Brahms' Fourth, she often asks her husband to accompany her. "He picks out the necessary orchestral parts on the piano so I can play my part against something. This new edition includes the most often requested excerpts and a piano reduction of the orchestral score for that very reason." The new publication should be available this summer.
In addition to this project Baxtresser is recording the excerpts on a C.D. for Summit Records, a company that is developing for each instrument a series of orchestral excerpts recorded by the principal players of major orchestras. This recording will be without piano, however, replicating the genuine audition experience. "It is an interesting project. I thought that the Philharmonic would be my last audition, but preparing for this project will take as much work as an audition."
During an audition there should be a sense of spontaneity. "It is a human experience to play music. To expect to play a note-perfect audition is unreasonable. I know in my three auditions I did a lot of playing at a high level, and even though I made some mistakes, the music came through because I was concentrating on sound, musicality, communicating emotion, and technical proficiency. Most players forget the first three aspects and simply regard the process of learning excerpts as an Olympic event for speed and fingers. The music is forgiving: once the notes and rhythm are secure, players should concentrate on communicating the essence of the music. It doesn't matter if a note is bobbled along the way.
"I often tell my students how lucky they are to have an opportunity to audition because all they have to worry about, once the hard work is complete, is communicating the music the best way possible. Without an orchestra to balance, no pitch to match, everything is up to the player, from tempo to pitch. An audition is like playing one huge cadenza that starts with Bach and ends with Stravinsky. Think of it as one performance instead of 14 separate excerpts."
Baxtresser's students rave about the care and love she pours into them. With each year of playing experience she feels that she has more to give, and it becomes easier to give. "I have begun to see my future in terms of my students, not in terms of my career, which will basically stay the same. I cannot do much more, and my personal achievements will not change radically." Each student, however, is a new experience, a new challenge. Baxtresser says she loves every minute of it and feels fortunate to have extraordinary students at both Julliard and the Manhattan School of Music. "The players I choose to teach have personalities I feel comfortable teaching. There is good chemistry, but not all teacher-student relationships work out as well." If the chemistry is not right, it may not be anyone's fault, but the best thing to do is be honest and to move on. "Give the student to someone who can help him make the most of these valuable years of learning. The student has to act with integrity, honesty, and respect for a teacher who will give of himself at the time. Both parties know when it is better to move on, and this is not a condemnation of either party. By releasing a student the teacher may in fact open up more pathways to learning, which may significantly change the student's future career.
"I am fortunate to have students who bring out the best in my teaching, which includes the study of both solo and orchestral literature. I take the strongest people I hear, and help them to take their place in the world of music. Attention to the orchestral repertoire teachers us so much about the larger scope of music, yet a player has to learn to be a soloist to meet the demands of orchestral playing. The ability to be a strong soloist enhances one's performance in the orchestra—of this there is no question."
All of the players in the N.Y. Philharmonic flute section are very active as soloists and chamber musicians. The other players are Sandra Church, Renee Siebert, and Mindy Kaufman. "I am very proud to be a part of this section of virtuoso flutists and dear friends. We all support each other in our various outside engagements and opportunities as well as in our work together in the orchestra." Baxtresser herself will appear with the Philharmonic no less than 13 times in 1995. Other projects this year have included a recording with Kathleen Battle on Sony, and recording the chamber music of Samuel Barber and Aaron Copland with Israela Margalit and musicians of the New York Philharmonic for E.M.I.
One aspect of Baxtresser's lessons is that she teaches students about some of the aspects of being a professional. "I tell my students that they are musicians, but they also have to be business-oriented. They will manage their own careers, so I have them start learning the business from the moment they walk into my studio, including keeping a notebook with lesson notes and logging phone calls. They keep files for summer programs, concert dates, and monthly calendars. I become distressed if they slip up on this aspect. Today musicians cannot survive by simply playing their instruments; they should be knowledgeable about the business and establish contacts because being a successful professional musician is a complicated life."
When her students demonstrate that they are ready, Baxtresser brings them into the Philharmonic to sub or play extra flute. "Just that experience changes them, like a magic potion, and they develop more self-confidence. My section always welcomes young players and makes it comfortable for them. It is a thrill to be there when my students first play in a major orchestra."
To Baxtresser the most difficult repertoire to play is the most familiar, because the flute part is in everyone's subconscious. "Everyone knows Scheherezade, Brahms' Fourth, and Afternoon of a Faun; even though they do not have a specific interpretation in mind, they will surely know if it is not played well. The standard big solos are always most difficult because a player expects the most of himself, and wants to give the most to the audience. Not only is it a feeling of giving to the audience, it is the supreme feeling of responsibility to colleagues and the conductor. These people are proud of their orchestra, and I want them to be as proud of my contribution as I am thrilled when someone around me plays beautifully."
Bernstein, Mehta, and Masur have impressed her profoundly, although each had a different focus. "Masur is particularly concerned that the performance reflects the composer's intentions more than his own. He wants to achieve the sound each composer had in mind. For example, playing appropriate dynamics in Beethoven is extremely difficult, but he catches inaccuracies right away and points out when we stray from the score. Dynamics, all expression markings, have to be exactly what the composer intended. We have to be careful not to impose a Stravinsky orchestral sound on a Brahms' Symphony. It is important to remember that Brahms never heard a Stravinsky work, and a musician has to play Brahms as though he never heard a 20th-century sound. A Brahmsian forte is a big, beautiful, golden, full sound without the edge of Stravinsky."
Despite a flutist's best efforts to make these musical differences, sometimes a conductor finds fault and stops a rehearsal to voice an opinion. "It is human to react defensively when a conductor requests something different, but a player has to react unemotionally and do what is asked."
Not wanting to sound out of tune with anybody, Baxtresser says she will do anything to adjust and get it right. "Everyone around me feels the same, and when there is that flexibility there are no problems. When someone asks to tune a chord because the intonation is off, it is important to not be offended but to fix it." She works with a tuner at home to identify pitch tendencies of certain notes. "In the orchestra, however, that is behind me, I have to adjust to the moment. New players need to go very carefully and let others know they are open to suggestion."
In the next millennium will musicians be able to work out such problems on a human level, or will the future include non-human elements? "I along with so many am distressed about funding cuts to school music programs. One of the key elements is the school music program, not only in building audiences, but in giving each child a wealth of experience doing something unique. This includes eye and hand coordination and developing parts of the brain that cannot be developed in any other way than through playing a musical instrument. To a young child the benefits of playing a musical instrument are incalculable. To have these school music programs threatened or cut is tragic on a human level." She advocates supporting local school music programs because the future of music depends on building audiences. "After every concert amateurs—literally, lovers of music—come backstage and tell me that they used to play clarinet or some other instrument in school. These people are some of the greatest music lovers in our audience."
Baxtresser began playing the flute at age nine in a school music program, "as did many of my colleagues. It is every bit as important as science and math. They all go together, and I hate to see music so threatened. It is not a luxury, it is an essential element in a young life." Growing up in Minneapolis, Baxtresser says she was abysmal playing the piano and violin, but when she rented a flute to play in the Robert Fulton school band, she took to it right away, especially because none of her five siblings played the instrument. It was something she could do all her own. "My mother was a concert pianist who practiced all the time, placing each new baby in the playpen next to the piano as she continued to play. I knew every piece in the piano repertoire by the time I was three, not knowing the composer or the name of the work, but I could sing it from beginning to end. My father was a great music lover. With six kids who all played instruments, we had a lot of chamber music in the house, although I was the only one to pursue music professionally. As a child it delighted me no end that no one else in the family could get a sound on my flute. The flute belonged to me alone. I derived more enjoyment from playing the flute than anything else."
Of all the flute literature, Baxtresser identifies best with music of the 20th century. "Music that requires different styles of vibrato, lush tone, and a feeling for rich harmonies is the most instinctive to me. Along with classical music I love jazz and Broadway show tunes. This music is part of our cultural heritage—indeed, one of our greatest cultural contributions to the world."
There are so many distractions today, from playing sports to video games, that compete for time, but Baxtresser is most grateful to the parents of her students and their early teachers. "I have observed that practicing first thing in the morning is best, but this requires discipline and parental supervision. A child cannot be expected to simply practice on his own until he establishes self-discipline. The parents who sit with their children for reassurance during practice sessions and take notes during lessons provide the best guidance. Life is very complex, but a child will know if a parent is involved and cares about practicing and succeeding."
Baxtresser inherits outstanding students who have, along with early teachers and parents, worked hard to achieve success at an early age. "The students that I teach in New York are remarkable players and people. For this, I owe a great debt to the parents for guiding them to this point in their lives, and to their first teachers, who have done such a superb job in providing them with a solid foundation technically and musically. I, together with the student, forge a path to their future in music, when they will become not only former students of mine, but valued colleagues and friends—just as I did with my teacher. In a way, I think of myself as one of the final links in the chain of a student's formal education. This chain begins with the parent and continues with the various teachers who help to develop all those elements that are so crucial to a good musician: ability on the instrument, self discipline, and love of music and musicians. I will never forget how much I was given as a child by my parents and the remarkable devotion of my principal teachers. A big part of being a musician is to pass on all of the good will and generosity you have received to those who some day will follow you as teachers and players."
---
Kathleen Goll-Wilson, performer, teacher, and clinician, is the Editor of Flute Talk magazine, and on the faculty of DePaul University in Chicago, Illinois. She is the founder and director of the Flute Talk Competition and is a guest lecturer at various master classes and festivals.