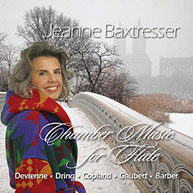 Chamber Music for Flute Jeanne Baxtresser
Cala Records CA CD 0544
Purchase: iTunes • Flute World
Devienne—Duo in C minor, Op. 5, No. 3
Dring—Trio for Flute, Oboe and Piano
Gaubert—Three Watercolors for Flute, Cello and Piano
Barber—Canzone for Flute and Piano, Op. 38a
Barber—Summer Music for Wind Quintet, Op. 31
Copland—Duo for flute and piano
Jeanne Baxtresser—flute
Stanley Drucker—clarinet
Judith Le Clair—bassoon
Alan Stepansky—cello
Philip Myers—french horn
Joseph Robinson—oboe
Israela Margalit and Pedja Muzijevic—piano
Reviews
"It takes only a few moments into the first work, Devienne's Duo for Flute and Viola in C Minor, Op.S No.3, to realize that this is a listening treat. The recorded sound on this CD is very clean, smooth, and spacious, while retaining a charming intimacy.
"Featured are works by Devienne, Dring, Gaubert, Barber and Copland. Jeanne Baxtresser's accomplices in this offering include some of the principal chairs in the New York Philharmonic, with whom she played for many years: Stanley Drucker, Judith leClair, Philip Myers, Cynthia Phelps, Joseph Robinson, and Alan Stepansky. The playing throughout is ravishing, and the chamber music reflects a joy of music making with good friends.
"Baxtresser has one of the most expressive sounds in recording today. There is a richness to her playing that makes one forget for a moment that it is not a voice. She sings in a way that should inspire all wind players, whether flutists or not. Intonation among each of the chamber music combinations is absolutely impeccable. The precision of ensemble playing is nearly always razor sharp, yet the ensemble achieves a flexible spontaneity that breathes life into the music.
"Most listeners will be unfamiliar, perhaps, with only one of the composers represented on this recording. Madeleine Dring (1923-1977). Her Trio for Flute, Oboe and Piano deserves to find its way into the standard literature for this combination. It is refreshingly rich, expressive, and an absolute delight to listen to. Although all flutists seem to have more than a casual acquaintance with Philippe Gaubert, few know his Three Watercolors for flute, cello and piano. The work is typical of his writing, well-crafted, relishing in that wonderful French sensitivity to timbre.
"Baxtresser's recording of Barber's Canzone on this CD provides food for thought and grounds for considerable discussion. It was recorded in 1996, and is more satisfying than her very fine performance of the same work nine years earlier, as heard in her CD, A Collection of My Favorites, released in 2006. This recording has more delicate entrances and nuanced phrases, although the ensemble playing is not quite as precise in spots as the earlier version. In both versions, her final phrase is an octave higher than Barber's published score, the final note being two octaves higher than written. The Canzone is introspective and dark in mood. Altering the final phrase in both recordings changes the finishing taste on the palate, much as one might react when tasting two beautifully vintaged wines. The published version and Baxtresser's changes are each attractive, but leave very different impressions.
"This recording of Barber's Summer Music for Wind Quintet, Op. 31 may be the best recording available of this central work. The ensemble playing is spectacular, balance is marvelous, and the musical impact is rich and rewarding.
"The program concludes with Copland's Duo for Flute and Piano. Baxtresser's performance showcases her singing phrasing and sparkling tonal presence. She explores many colors in the course of this well-known and loved work. It has been recorded countless times, yet seldom with such sensitivity. This is a must-have recording."
—Brooks de Wetter-Smith, The Flutist Quarterly, Fall 2007
---
"Wow. This is truly an 'all-star' lineup of musicians. Jeanne Baxtresser has some remarkable friends and chamber music partners, all from her time playing with the New York Philharmonic, and the playing on this recording defies description. You simply must hear it for yourself…Anyone who enjoys great chamber music should find this and listen repeatedly. You will have a truly rewarding experience."—Christopher Chaffee, American Record Guide, Jan/Feb 2007
---
"Orchestral players occasionally need to declare their artistic independence by turning to music on a more intimate scale sans conductor. Jeanne Baxtresser's two compilation releases document her gleaming artistry as recitalist and chamber player during the periods she served as principal flute of the Toronto Symphony and the New York Philharmonic. Baxtresser's sound is warm, kaleidoscopic in colours and even throughout the registers. But she goes beyond tonal lustre and technical élan to explore the expressive possibilities in this multitude of pieces.
"The discs have one overlap, Barber's Canzone, Op 38a, though in performances with different pianists. The performance with Israela Margalit is more expansive, but both capture the sad beauty of music Barber orchestrated for the second movement of his Piano Concerto. Baxrtesser's collaborations with colleagues from the Philharmonic and others are captivating, and, as she states in programme-notes, real or extended family affairs, with contributions from her mother, pianist Margaret Baxtresser, and her husband, bassoonist David Carroll. Flautist Baxtresser savours the sunny Classical interplay in Devienne's Duo for flute and viola with Philharmonic principal Cynthia Phelps, and shares the Poulenc-influenced material in Madeleine Dring's Trio for flute, oboe and piano with oboist Joseph Robinson (a former Philharmonic principal) and pianist Pedja Muzijevic. The splendidly shaded performance of Barber's poignant and chipper Summer Music for wind quintet features Baxtresser and Robinson with more superlative Philharmonic chums.
"In the tradition of wind and brass players who pine for great repertoire, Baxtresser often turns to transcriptions on her "collection of my favourites". Among the impressive reworkings is Debussy's Prélude á L'aprés-midi d'un faune for flute and piano, in which Baxtresser radiantly shapes the lyrical material beyond her instrument's famous phrases. She offers a snazzy version of Gershwin's "Someone to Watch Over Me" and joins the Eric Robertson Trio in a rendition of Claude Bolling's Suite for flute and jazz trio that strikes my ears as even more irresistible than the original Rampal recording."
—From "An orchestral principal shows her star quality as she steps up to the front" by Donald Rosenberg, Gramophone, January 2007
---
"Jeanne Baxtresser—Chamber Music for Flute contains a wonderful variety of works…All of the musicians on the recording, except for the two pianists, were colleagues with Jeanne in the New York Philharmonic. That long-standing musical relationship is evident in every phrase of these excellent performances. The ensemble playing is simply outstanding on every level."—Larry Krantz, Larry Krantz Flute Pages, Oct. 2006