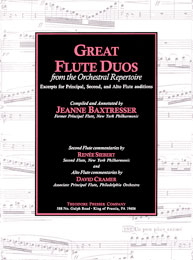 Great Flute Duos from the Orchestral Repertoire Purchase
Excerpts for Principal, Second, and Alto Flute Auditions
Compiled and Annotated by Jeanne Baxtresser
Second Flute commentaries by Renée Siebert, Second Flute, New York Philharmonic, and
Alto Flute commentaries by David Cramer, Associate Principal Flute, Philadelphia Orchestra.
Complete first flute book, with Baxtresser's guidance throughout.
Pull-out second flute book, with Siebert's annotations and "Thoughts on Playing the Job and Taking Auditions".
Separate pull-out alto flute book, with Cramer's details on performance and on why studying the alto flute repertoire is essential to auditioning and playing in the orchestral setting.
Includes reproductions of orchestral parts, as most commonly used today, with print style, breaks, and page turns true to the originals.
Published by Theodore Presser Company
588 No. Gulph Road, King of Prussia, PA
610-527-4242
Press Release
The Theodore Presser Company announces the publication of Great Flute Duos of the Orchestral Repertoire, compiled and edited by Jeanne Baxtresser, former principal flutist of the New York Philharmonic. Renée Siebert, Second Flute, New York Philharmonic, lends her wisdom and experience to the second flute parts, published in a separate pull-out book. A second pull-out book in the volume includes rarely reprinted alto flute parts with advice on performance by David Cramer, Associate Principal Flute, Philadelphia Orchestra.
The book is the fourth volume of Presser's new series of Orchestral Excerpts. Ms. Baxtresser's first book in the series, Orchestral Excerpts for Flute, has quickly become a vital part of flute pedagogy.
Ms. Baxtresser has chosen the most-requested audition pieces, and many of the most beautiful duets in the orchestral repertoire for Great Flute Duos. All flute parts are printed exactly as they appear in the most often used editions, retaining the original page breaks and turns to replicate the audition experience. Each excerpt is presented along with Ms. Baxtresser's commentary and advice on preparation and performance.
Great Flute Duos is designed as a virtual audition manual for aspiring orchestral flutists. Special focus is given to the qualities of musical leadership needed in a principal flutist, the complex challenges of a second flute position and valuable suggestions for the performance of the major alto flute solos.
Reviews and Comments
What some of the world's foremost conductors say about Great Flute Duos:
"I was deeply impressed by your new book 'Great Flute Duos' from the Orchestral Repertoire which you have prepared so carefully together with Renee Siebert and David Cramer. Your advice is not only a mirror of your great experiences but much more proof of your high artistic imagination and I find the selected repertory outstandingly helpful for young players…On behalf of all young upcoming flute players I would like to thank you for helping build up a generation of flutists with high knowledge and understanding."—Kurt Masur, Former Music Director, New York Philharmonic; Former Kapellmeister, Leipzig Gewandhaus Orchestra; Music Director of the Orchestre National de France
---
"Jeannie and Renee were my flute section during part of my tenure with the New York Philharmonic. I know they achieved the highest standards, professionally and personally, in their collaboration with each other. In this book, they share their knowledge…it is an essential resource for any flutist who aspires to play in an orchestra."—Zubin Mehta, Former Music Director, New York Philharmonic; Music Director, Israel Philharmonic Orchestra; Music Director, Bavarian State Opera in Munich
---
"The ideas and suggestions found in this book are the very things I look for in any flute audition as well as from the podium…an invaluable guide for orchestral flutists and those aspiring to be there."—Andre Previn, Music Director, Oslo Philharmonic; Frequent Guest Conductor, New York Philharmonic
---
Praise for Great Flute Duos from some of the world's finest orchestral flutists, leading educators and publications:
"For years I have kept individual parts for prominent orchestral flute duos specifically in order to play along with students who were preparing for second flute auditions. In addition, I coach these students on the fine points of ensemble with one another and the rest of the orchestra. So it was a delightful surprise to receive this wonderful book which finally addresses the fact that not every good flutist spends their entire career occupying a principal chair, and that there is joy, pride and appreciation to be found in the role of a section wind player."—Martha Aarons, Second Flutist, The Cleveland Orchestra
---
"Finally! A beautifully organized and comprehensive collection of orchestral duos and alto flute excerpts that all flutists will benefit from. I wish I'd had this book as a student, but now I'm thrilled to be able to use it in my own teaching studio. The personal comments and tips from Ms. Baxtresser and her two colleagues make this a truly unique and inspirational collection."—Jennifer Conner, Second Flutist, Pittsburgh Symphony Orchestra
---
"Yet another terrific addition to the flutist's audition repertoire. The commentaries and suggestions by Baxtresser, Siebert and Cramer are as valuable as the music itself."—Jeffrey Khaner, Principal Flutist, The Philadelphia Orchestra
---
"This book is a very useful tool for any aspiring orchestral flutist."—Robert Langevin, Principal Flutist, New York Philharmonic
---
"The Baxtresser/Siebert/Cramer compilation of orchestral duos is a great addition to Theodore Presser Company's roster of meticulous, comprehensive excerpt books. It will surely become a primary resource for flutists wishing to deepen their knowledge of the basic orchestral flute repertoire."—Michael Parloff, Principal Flutist, The Metropolitan Opera Orchestra
---
"Thank you for sending your latest fantastic contribution to flutists. Along with your earlier book, 'Great Flute Duos' will become required material for my students at Indiana University, especially in my orchestral excerpt class."—Thomas Robertello, Professor of Flute, Indiana University Former Associate; Principal Flute, Pittsburgh Symphony Orchestra
---
"This is a splendid sequel to 'Orchestral Excerpts for Flute', and will be just as indispensable to anyone who is serious about flute auditions. Since much of the material has been available only in microscopic miniature scores, it is a great convenience to have the original parts clearly reproduced and the supplementary information is invaluable, as always."—Fenwick Smith, Former Second Flutist, Boston Symphony Orchestra; Professor, New England Conservatory
---
"The Duos book is, as the title says, GREAT! My students have been entranced with this book; studying the repertoire, and their intonation and ensemble skills all in one, while playing the music they aspire to perform. This book is simply a must-have, fabulous resource…we are praying for volume II!"—Alexa Still
---
"A Reviewers Choice—All prospective orchestral flutists and serious students should own this outstanding compilation."—Flute Talk Magazine
Table of Contents
J.S. Bach—

St. Matthews Passion
Magnificat
B minor Mass
Cantata No. 208

Bela Bartok—
Hector Berlioz—
Georges Bizet—

Danse Bohème from Carmen
L'arlésienne Suite No. 1

Johannes Brahms—

Symphony # 1
Symphony # 2
Haydn Variations

Benjamin Britten—

Young Persons Guide to the Orchestra
Claude Debussy—
Antonin Dvorak—
Gustav Holst—
Felix Mendelssohn—

Nocturne from Midsummer Nights Dream Italian

Sergei Prokofiev—
Maurice Ravel—

Daphnis and Chloe
Alborada del Gracioso
Mother Goose Suite
Tombeau de Couperin

…and more!